New year marks a fresh start. At the start of the year, we often take time to reflect on the previous year and plan the goal for the coming months. In this blog post, I would do the same by having a quick look back at 2019 and sketch a plan of my technical skills developement for the rest of 2020.
2019 highlights
2019 was an eventful and fruitful year for me. Below are some highlights of the professional things in the year (I am not going to do a month-by-month recap).
I celebrated my 5th year at Cisco. The company was named 'World's Best Workplaces 2019'
Our team restructured the technical sales support model. I was assigned to be DC/cloud focused SE, working with all Service Provider customers for all DC/cloud opportunities. This was a positive move from my previous 'generalist SE' role. I was able to focus much more on my work, and go deeper/more hands-on on DC technologies.
After 3 years of pursing CCIE DC track, I passed the exam in August after one failed attempt in April. The long, grueling preparation has finally paid off. I am now a double CCIE 🙂
Our internship program for the country continued with great success. One ex-intern now is part of our SE team, while the one finished the program in 2019 is now also a Cisco CPOC lab engineer supporting us. Our Cisco internship community is still growing strong.
I launched my personal technical blog. This has been on my to-do list for quite some time, but still held back due to a number of reasons.
I got the first step into the cloud computing, passing AWS Solution Architect Associate exam in December.
What's next for 2020?
Networking is a fast changing industry. People often talking about the skills the network engineers in this modern era should possess to keep up with the pace and not left behind. Below are my key goals this year to equip myself with some of these 'NextGen' skills (in SP/DC/Cloud)
Certifications
I am a big fan of certifications. Why? Because having a certification as a target will help you:
know what to study, and study in a structured approach
show your competency and understanding of the technologies
look good on your profile
I have no plan to get any other CCIEs this year. Instead, I will keep my eyes on the revamp of the certification porfolio that Cisco will bring this March, and continue to update/refresh the learning topics in CCIE DC/SP tracks.
I put AWS Certified Advanced Networking – Specialty certification on top of my list. As a network engineer, it should be obvious that I want to know more deeply about networking in the cloud world.
Hybrid Cloud approach
Cloud might be dominant, but on-prem data centers are not going away. The best bet would be to embrace a 'hybrid' approach where the workload can be flexibly placed in the cloud or on-prem.
My plan is simple: go for the hybrid with Cisco CCIE DC + AWS Cloud certifications.
OpenStack/Linux networking and NFVI
I feel the need to equip myself with more knowledge and hands-on practice on OpenStack and Linux networking as it is the foundation for most, if not all, of the Telco NFV deployments. Red Hat OSP and Cisco VIM documentations are worth reading.
Containers – the future of virtualization
It is never too late to start learning Kubernetes. I have started by enroling in the course Docker and Kubernetes: The Complete Guide Better be prepared for the microservices being used in the Telco network functions in the near future.
Automation/Programmability
Network engineers are long familiar with CLI when it comes to interact with a network device. In the era of growing network scale and complexity, having network automation/programmability skills will come in handy. I will look forward to putting these in my repetoire:
Putting it all together
A quick sketch of my learning map for 2020. Hoping to put them into real life experience in real projects 🙂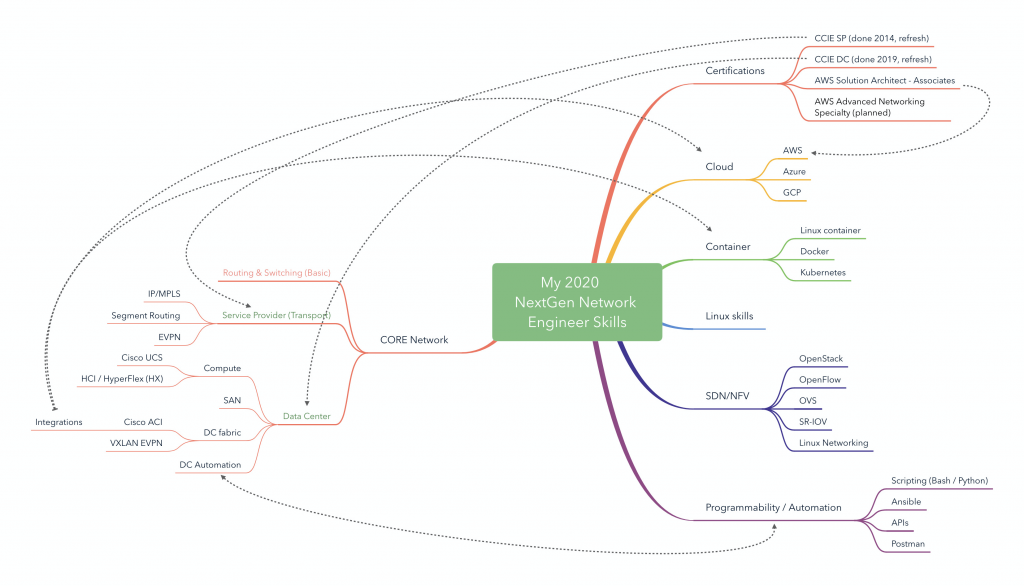 Let's roll!